BULK COOKER CAPACITY 160LTRS
FEATURES
Fully SS cooking chamber with insulated exterior body.
Economical and speedy cooking for massive catering units.
Smooth flow stainless steel outlet valve for easy collection.
The unit is provided with Powder coated MS Chimney to escape hot gas.
High heat transfer to give faster heating.
---
HAMMER MILL CAPACITY 3HP
FEATURES
For heavy wet and dry grinding, puree, paste, chutney.
Heavy duty motor to take load on continuous basis.
Different sets of perforation for different thickness of grinding.
Hygiene as no exposure to open dirt, insects etc.
Magnetic safety switch to stop motor on opening of door
Inbuilt starter to prevent overload on the motor.
---
SANDWICH GRILLER
FEATURES
Casting grooved plates for better heat transfer and even heating in short time.
Smooth no spring lid which holds the top in a position which doesn't squeeze the sandwich.
Thermostatically controlled to reduce power consumption
---
GAS TILTING PAN CAPACITY 50LTRS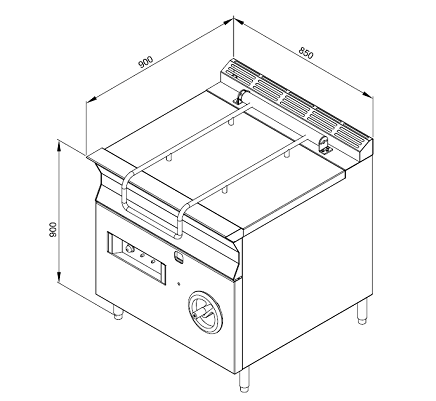 FEATURES
Auto ignition of burners / pilot which ensures safety of the operator.
Low pressure S.S. burners with high efficiency to reduce gas consumption by 40-45 % than LPG burners used normally.
High rate of heat transfer to give faster heating and reduced gas consumption.
Smooth cam shaft tilting mechanism which doesn't tier the operator, even on continuous work.
Full 100% tilting of pan for pouring out everything.
Very compact design to occupy minimum floor space.